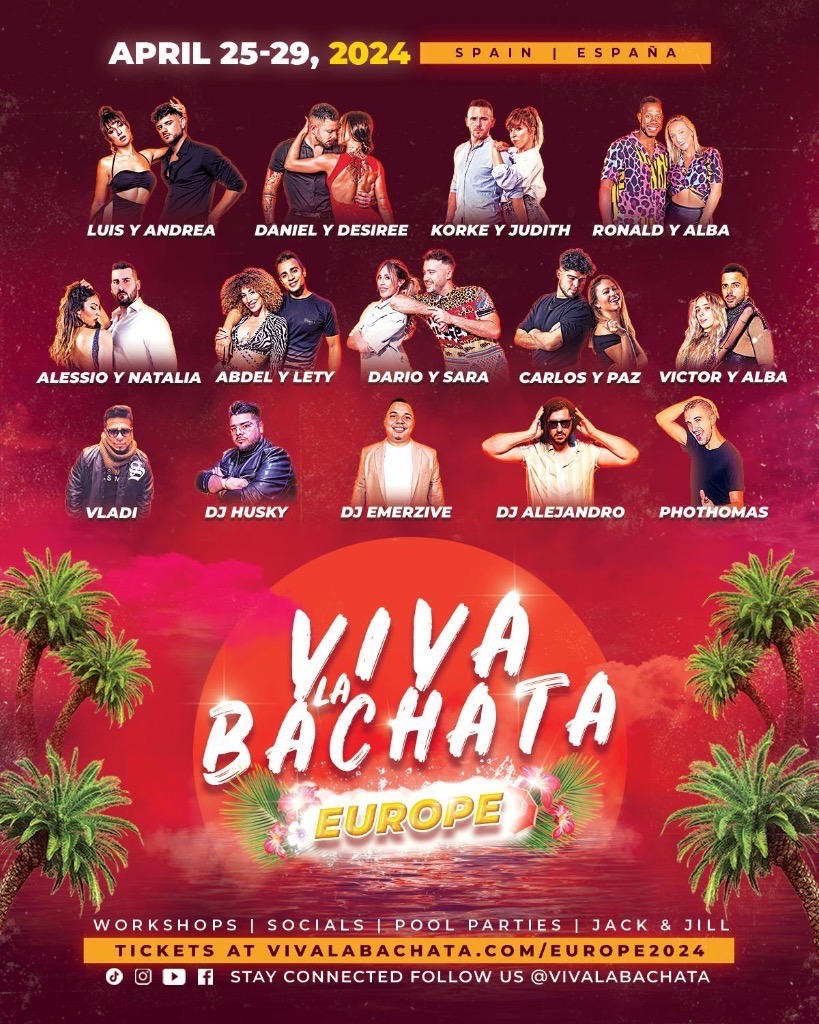 4.4
View ratings
38 ratings of attendees of the last edition
&nbsp Muy muy buen evento. Nos encantó pero el hotel un poco caro. &nbsp
Date: From 25/04/2024 to 28/04/2024
Time: 21:00



Location: Holiday World Polynesia Hotel. Av. del Sol,195
Benalmádena, Málaga, España




FULL PASS: 99,00 € info
GOLD VIP PASS (Follower): 189,00 € info
GOLD VIP PASS (Leader): 189,00 € info
Holiday World Polynesia - 3 nights - Double Room (2 People) - ALL INCLUSIVE (TI) : 594,00 € info
Holiday World Polynesia - 2 nights - Double Room (2 People) - ALL INCLUSIVE (TI) : 396,00 € info
Holiday World Polynesia - 4 nights - Double Room (2 People) - ALL INCLUSIVE (TI) : 792,00 € info
Holiday World Polynesia - 4 nights - TRIPLE Room (3 People) - All Inclusive(TI): 1.104,00 € info
Holiday World Polynesia - 3 nights - TRIPLE Room (3 People) - All Inclusive(TI) : 828,00 € info
Holiday World Polynesia - 2 nights - TRIPLE Room (3 People) - All Inclusive(TI) : 552,00 € info
Holiday World Polynesia - 3 nights - CUADRUPLE Room (4 People) - All Inclusive(TI) : 1.056,00 € info
Holiday World Polynesia - 4 nights - CUADRUPLE Room (4 People) - All Inclusive(TI): 1.408,00 € info
Holiday World Polynesia - 2 nights - CUADRUPLE Room (4 People) - All Inclusive(TI) : 704,00 € info




HOTEL RESERVATIONS MANAGED BY

DANCE TRAVEL
Titulo/licencia: CICMA3085
General conditions of room booking
+34 623 03 66 38
eventos@dance-travel.com
Description
Bienvenidos, Welcome, Benvenuto !

VIVA LA BACHATA EUROPE 2024
Orden: Español, English, Italian
❤️ 25-29 de Abril , 2024 ❤️
4 Días llenos de Talleres, Shows, Sociales, Competencia y Fiestas en la Piscina. Nos vamos de vacaciones a Malaga y vamos a bailar BACHATA sin parar en el Holiday World Polynesia Hotel.

Síguenos en instagram y en todas las redes sociales como @Vivalabachata_europe o @VivaLaBachata vamos a ir contando cada 3 días todos los ARTISTAS, DJs e invitados especiales 🤩
Compra tu Full Pass antes que suba de precio 😉
🤩 FULL PASS 🤩:
Acceso a todos, los talleres y sociales del evento. Excepto Máster clases y competición.

ENGLISH:
VIVA LA BACHATA EUROPE 2024
❤️ April 25 to 29, 2024 ❤️
4 Days full of workshops, performances, socials, competition and pool parties. We are going on vacation to Málaga, Spain and we are dancing BACHATA non stop at the Holiday World Polynesia Hotel.
Follow us on instagram and in all social media as @Vivalabachata_europe @VivaLaBachata we will be announcing, every 3 days all our Artists, DJs and special guests 🤩
Get your Full Pass before the price goes up 😉

🤩 FULL PASS 🤩
Access to all workshops and socials.
Except Master classes and Competition

ITALIANO:
VIVA LA BACHATA EUROPE 2024

❤️ Dal 25-29 aprile al 2024 ❤️
4 giorni ricchi di workshop, spettacoli, social, gare e feste in piscina. Stiamo andando in vacanza a Málaga, in Spagna, e stiamo ballando BACHATA senza sosta all'Holiday World Polynesia Hotel.

Seguici su Instagram e su tutti i social media come @Vivalabachata_europe @VivaLaBachata annunceremo, ogni 3 giorni, tutti i nostri Artisti, DJ e ospiti speciali 🤩

Ottieni il tuo Full Pass prima che il prezzo aumenti 😉

🤩 PASS COMPLETO 🤩
Accesso a tutti i workshop e social.
Tranne Masterclass e Competizione.
Artists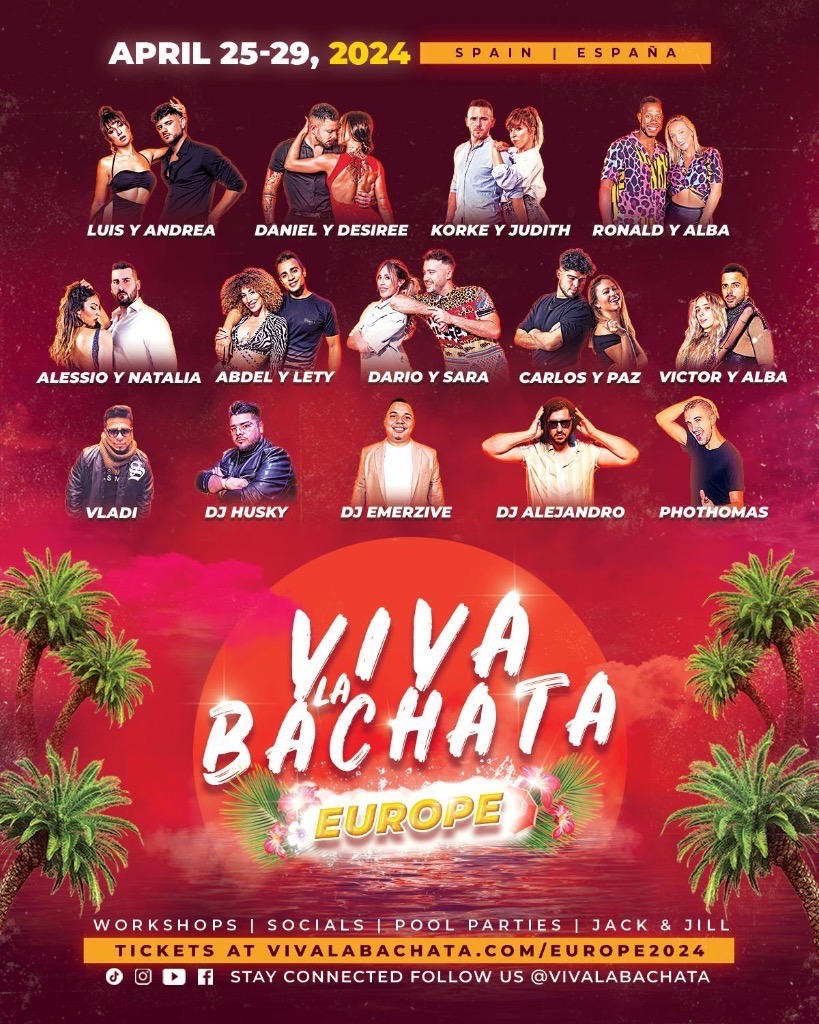 Related