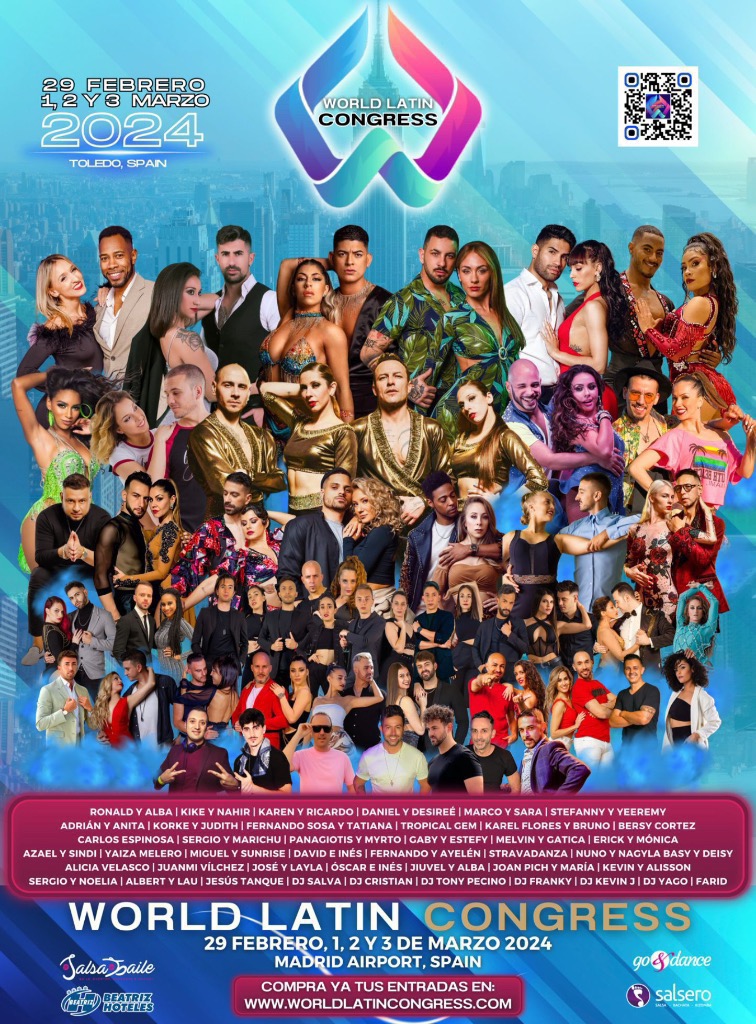 4.0
View ratings
28 ratings of attendees of the last edition
Veronica
&nbsp 10/04/2023
Veronica &nbsp 10/04/2023
&nbsp Talleres masificados sin proporción adecuada entre hombres y mujeres. Se agradecería que los artistas organizasen mejor las clases para los cambios y que se preocuparan de que todo el mundo pudiera verles. &nbsp
Date: From 29/02/2024 to 04/03/2024
Time: 15:00



Location: Hotel Beatriz Toledo Auditorium. C. de los Concilios,s/n
Toledo, Toledo, España






Description
WORLD LATIN CONGRESS 2024
BIENVENIDOS AL CONGRESO INTERNACIONAL DE LOS MEJORES BAILARINES DE SALSA Y BACHATA DEL MUNDO.
WELCOME TO THE INTERNATIONAL CONGRESS WITH THE BEST DANCERS OF THE WORLD IN SALSA AND BACHATA.
ARTISTAS/ARTIST
KAREN Y RICARDO
DANIEL Y DESIREE
MARCO Y SARA
FERNANDO SOSA Y TROPICAL GEM
KIKE Y NAHIR
RONALD Y ALBA
STEFFANNY Y YEEREMY
ADRIAN Y ANITA
MELVIN Y GATICA
KORKE Y JUDITH
KAREL FLORES Y BRUNO
BERSY CORTEZ
CARLOS ESPINOSA
SERGIO Y MARICHU
PANAGIOTIS Y MYRTO
GABY Y ESTEFY
ERIK Y MONICA
AZAEL Y SINDI
NUNO Y NAGYLA
STRAVADANZA
MIGUEL Y SUNSIRE
BASY Y DEISY
DAVID E INÉS
JUANMI VILCHEZ
KEVIN Y ALISSON
JESUS TANQUE
Y MUCHOS MÁS... / AND MANY MORE...
LOS MEJORES DJ´S DEL MOMENTO / THE BEST DJ´S AT THE MOMENT:
DJ TONY PECINO
DJ KEVIN J
DJ FRANKY
DJ CRISTIAN
DJ SALVA
DJ YAGO
CÁMARAS OFICIALES DEL EVENTO / OFFICIALS VIDEOGRAPHERS:
SOCIAL DANCE TV
BACHATA LOVERS
ROYAL DANCE PRODUCTION
EL NUEVO CONGRESO REVOLUCIONARIO QUE HA LLEGADO AL MUNDO PARA MARCAR LA DIFERENCIA.
THE NEW REVOLUCIONARY CONGRESS THAT IT´S COMMING TO MAKE THE DIFFERENCE.
GUARDA LA FECHA / SAVE THE DATE:
JUEVES 29 DE FEBRERO, VIERNES 1, SÁBADO 2 Y DOMINGO 3 DE MARZO 2024.
29 OF FEBRUARY, 1, 2 AND 3 OF MARCH 2024.
HOTEL BEATRIZ TOLEDO AUDITORIUM
RESERVAS DE HABITACIONES EN HOTEL SEDE:
www.worldlatincongress.com
ESPAÑA / SPAIN
Artists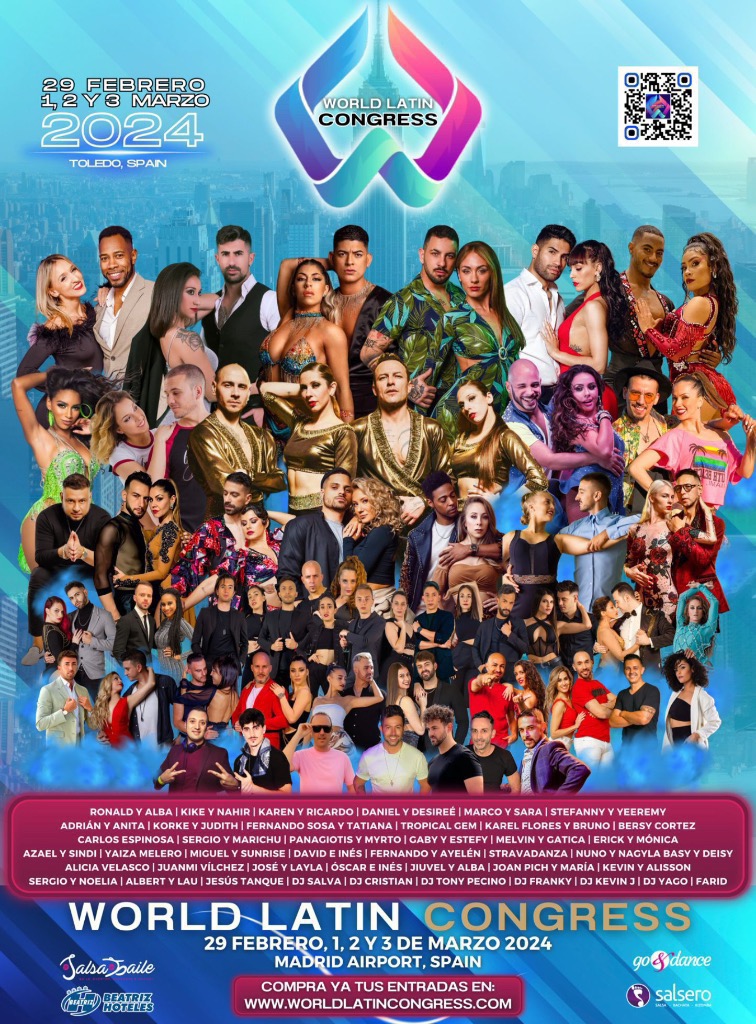 Related